BACK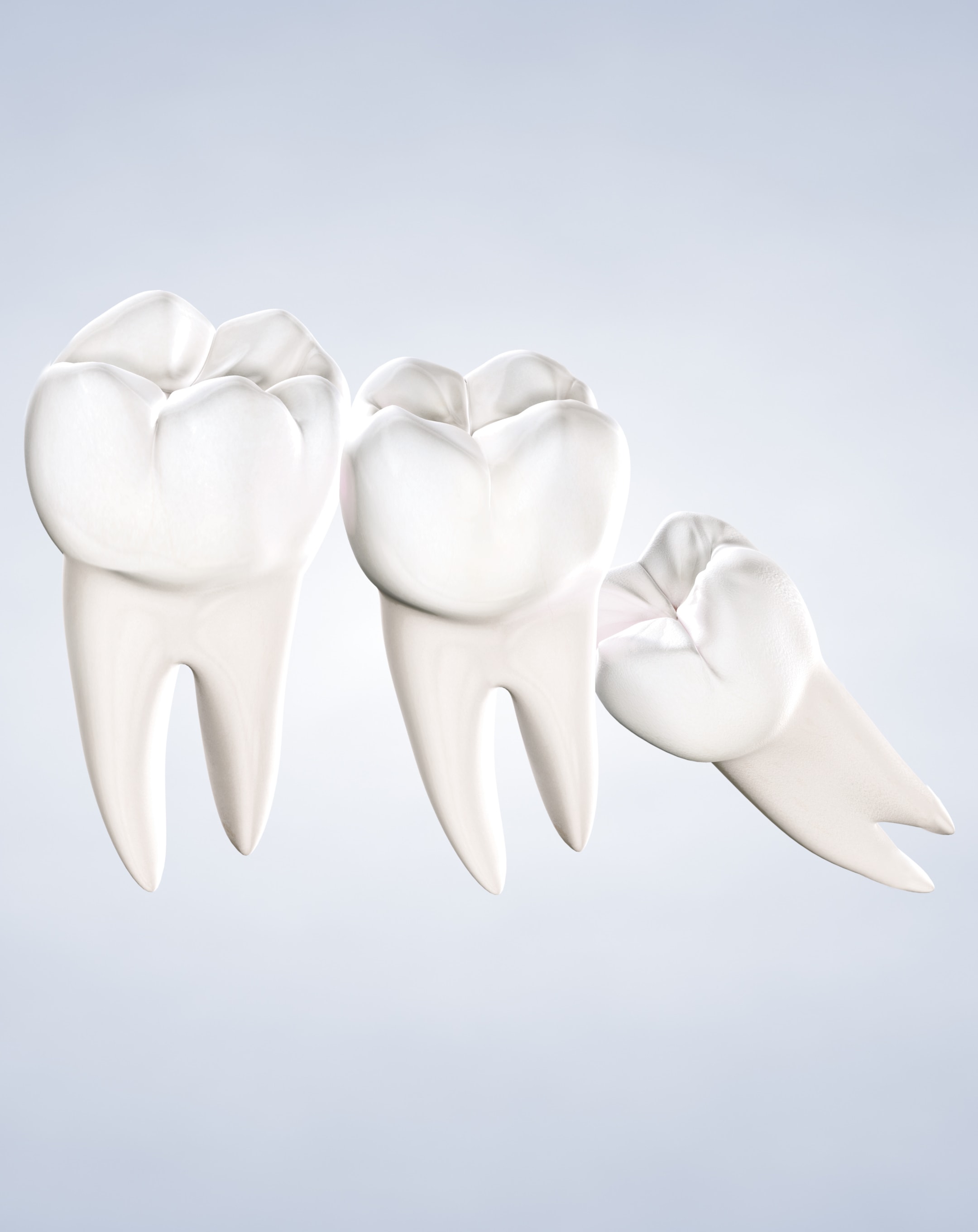 Wisdom Teeth Removal in Lapeer, MI
Remove Third Molars to Prevent Complications
If you live in Lapeer, MI, and it's time to have your wisdom teeth examined, we encourage you to visit our office for a consultation. Without enough room in the mouth to grow properly, wisdom teeth can cause infection, damage to nearby teeth, cysts, and tumors.
Extracting wisdom teeth ensures that they don't cause a problem for the rest of your mouth. Even fully grown wisdom teeth can start causing problems later in life, which is why our team at Greater Michigan Oral Surgeons & Dental Implant Center recommends early removal in a majority of cases.
Consultation Appointment for Wisdom Teeth Removal
Most people have four wisdom teeth, but it's possible to have more, less, or even no wisdom teeth at all. These inconsistencies make it important to get a consultation before undergoing wisdom teeth removal. When you come to our office, our oral surgeons will closely examine your condition and the position of your wisdom teeth before developing a personalized treatment plan for removal.
Easy, Online Video Consultations
Greater Michigan Oral Surgeons & Dental Implant Center is pleased to offer after-hours online video consultations for patients seeking wisdom teeth removal.
An online video consultation is a virtual consultation that takes place in a HIPAA-compliant video conference setting. It is a safe and convenient way to meet your doctor and care team while you receive important information about your treatment plan, financial details, pre- and post-operative instructions, and more. As an added bonus, an online video consultation allows you to have a consultation at the time and place that is convenient for you. An online video consultation is very similar to an in-person consultation, so you will also have the opportunity to ask any questions you may have.
While we make every effort to ensure we exceed our patients' expectations, eligibility of an online video consultation is at the discretion of the practice to ensure patient safety and optimal outcomes. In general, patients seeking an online video consultation should
Be between the ages of 14 and 30 years of age
Be in good health
Have recent panorex X-rays
Have a reliable, high-speed internet connection
If you are interested in an online video consultation for wisdom teeth removal, please call our office and ask the front desk.
Anesthesia Options for Wisdom Teeth Removal
At Greater Michigan Oral Surgeons & Dental Implant Center, our team recognizes the importance of feeling comfortable when you come in for wisdom teeth removal. We offer several different anesthetic options to help patients feel completely at ease when they come to our office for treatment. Our oral surgeons have undergone extensive training in anesthesia administration, and will make sure you are safe and comfortable at all times.
Local anesthesia is a mild numbing agent used to prevent pain and discomfort at the surgical site. If you have ever had a filling, you may have experienced local anesthesia.
Nitrous oxide, more commonly known as laughing gas, is used to calm patients' nerves before surgery, and it is typically used in combination with local or IV anesthesia.
IV sedation is a popular choice among wisdom teeth removal patients because it allows them to sleep through the procedure and wake up once it's complete.
The anesthesia used during your treatment will depend on your medical history and your preference. Your oral surgeon will discuss all of your options with you at your consultation appointment.
The Removal of Wisdom Teeth
The procedure of removing wisdom teeth typically depends on the patient and their specific needs. If the wisdom teeth have fully erupted, it's likely they will be removed just like regular teeth. Impacted wisdom teeth must be removed through a surgical incision into the gum tissue. A wisdom tooth may be broken into smaller segments before removal. The gums are sutured closed after removal, and patients will be sent home to recover after the anesthesia wears off.
Where can I get my wisdom teeth removed near Lapeer, MI?
If you're interested in wisdom teeth removal in Lapeer, MI, we encourage you to contact the team at Greater Michigan Oral Surgeons & Dental Implant Center. We are always happy to answer any questions you may have or schedule you an appointment with one of our expert oral surgeons. We are proud to offer wisdom teeth removal to the Lapeer, MI, community, and we look forward to meeting you.
From Lapeer, MI:
Get on I-69 W in Lapeer Township – 4 min (2.1 mi)
Continue on I-69 W to Mundy Township. Take exit 90 from US-23 S – 22 min (25.0 mi)
Continue on W Hill Rd. Drive to Gateway Center – 1 min (0.3 mi)
Greater Michigan Oral Surgeons & Dental Implant Center
5417 Gateway Center
Flint, MI 48507
These directions are for planning purposes only. You may find that construction projects, traffic, weather, or other events may cause conditions to differ from the map results, and you should plan your route accordingly. You must obey all signs or notices regarding your route.
Types of Anesthesia
We offer a variety of anesthetic options to make your experience as pleasant and comfortable as possible. The method of sedation used depends on your preference, the nature of the procedure, and your medical history.
Hear From Wisdom Tooth Patients
These patients can tell you about the firsthand experience undergoing wisdom tooth at our office.
Reviews From Our Wisdom Tooth Patients
Learn more about our practice or contact us to schedule an appointment.