BACK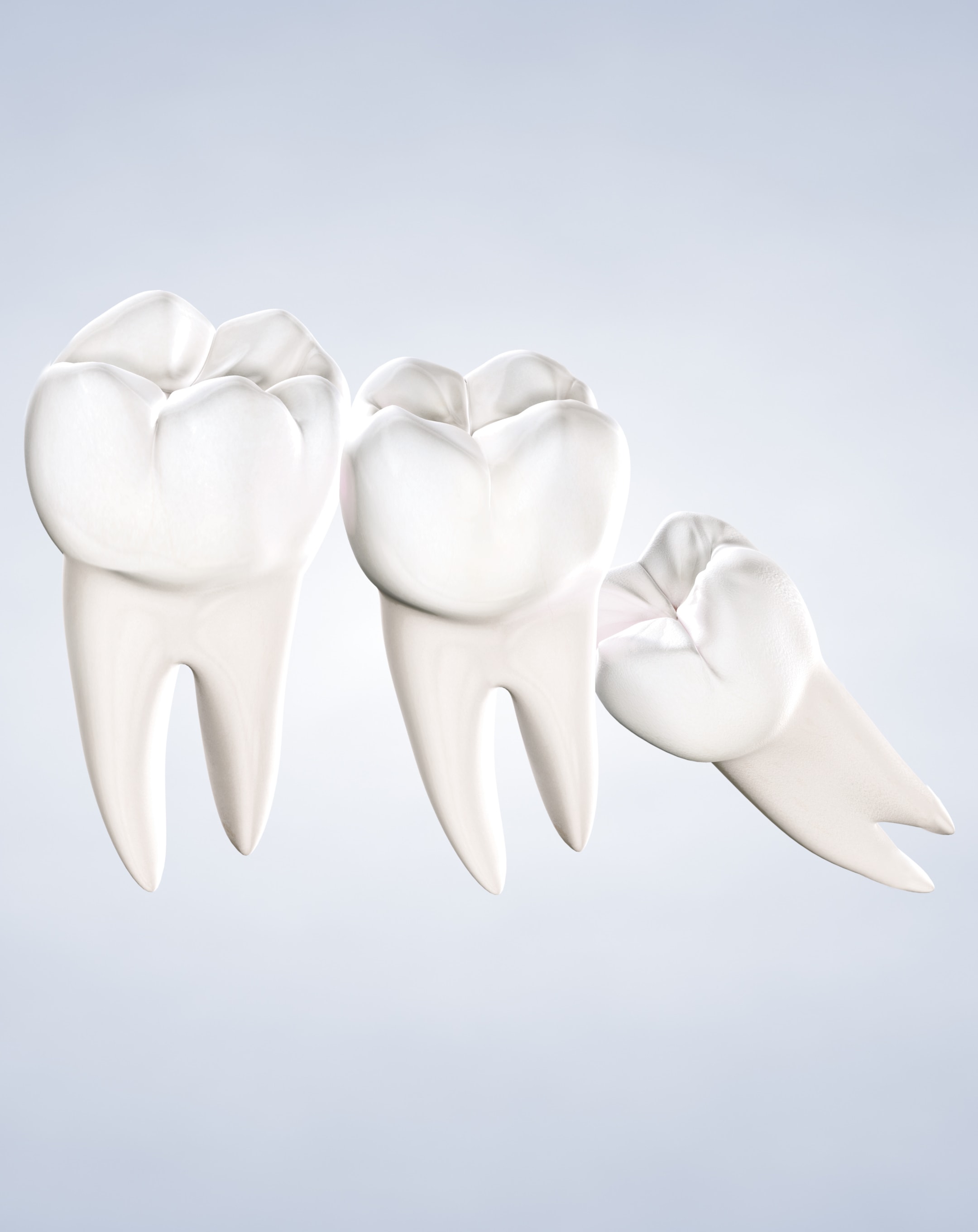 Wisdom Teeth Removal in Oxford, MI
Prevent Problems & Protect Oral Health
Many dental professionals recommend having wisdom teeth removed early to prevent them from harming your oral health. Wisdom teeth, or third molars, are the last teeth to develop. The average mouth can only hold 28 teeth, so trying to make room for an additional four can become problematic.
Wisdom teeth tend to erupt between the ages of 17 and 20. The earlier they are removed, the less issues they usually cause. The average person develops four wisdom teeth, but some people develop more than four while others develop none. It's important to continue to visit your dentist for regular checkups, as they will track the development of your wisdom teeth.
When the time is right, your general dentist will refer you to an oral surgeon to have your wisdom teeth extracted. Oral and maxillofacial surgeons specialize in surgical procedures involving the mouth and face. The specialists at Greater Michigan Oral Surgeons & Dental Implant Center regularly perform this procedure in the safety and comfort of our six offices in Flint, Saginaw, Bay City, Owosso, Oxford, and Midland.
Wisdom Teeth Consultation Appointment
During your consultation appointment at Greater Michigan Oral Surgeons & Dental Implant Center in Oxford, MI, your surgeon will examine your mouth and take X-rays to determine the stage of development and position of your wisdom teeth. If your oral surgeon concludes that your wisdom teeth are jeopardizing your overall oral health, an individualized treatment plan will be developed for their removal.
Easy, Virtual Consultations
An online video consultation is a virtual appointment in a HIPAA-compliant video conference setting. It is an easy and secure way to consult with your doctor and care team about important information regarding your treatment plan, financial details, pre-and post-operative instructions, and much more. An additional benefit of an online video consultation is convenience. You are able to schedule the appointment at the time and place that works for you. An online video consultation is just like an in-person appointment. You can speak with the doctor directly and ask any questions you may have.
While we make every effort to try and exceed our patients' expectations, eligibility is at the discretion of the practice to ensure patient safety and optimal outcomes. In general, patients seeking a tele-consult should:
Be between the ages of 14 and 30 years of age
Be in good health
Have recent panorex X-rays
Have a reliable, high-speed internet connection
If you are interested in a tele-consult for wisdom teeth removal, please contact our office in Oxford, MI and one of our staff members will be happy to assist you in scheduling an appointment.
Treat Impacted Wisdom Teeth
An impacted wisdom tooth is a tooth that develops at an angle and becomes trapped underneath the gum. The roots of wisdom teeth are large and unpredictable, making other nerves and roots susceptible to their damaging effects. Impacted wisdom teeth are difficult to clean properly, which can cause infections and gum disease. Leaving these teeth untreated can lead to the formation of painful cysts, tumors, and other complications.
When canine teeth are impacted, they are corrected with an expose and bond procedure. Unlike canine teeth, wisdom teeth do not serve a primary function so they can easily be extracted.

You can have stem cells from wisdom teeth banked now and used for possible regenerative applications and therapies in the future.
Wisdom Tooth Removal Procedure
At your first visit, you will meet with one of our oral surgeons, who will go over your options for anesthesia and take 3D scans of your mouth. Most patients choose to undergo IV sedation, which puts them into a sleep-like state unable to feel pain. A designated driver must take you home and remain with you for 24 hours after your procedure.
On the day of the procedure, your surgeon will remove any exposed wisdom teeth with forceps. We will break impacted wisdom teeth into smaller pieces before extracting them all. Any incisions are sutured closed, and you will rest in our recovery area until the anesthesia wears off. Be sure to follow the post-operative instructions closely to ensure proper healing of the surgical site and prevent complications.
During the healing process, you will need to keep the extraction sites clean. Avoid drinking through straws, as this can cause dry socket. Beginning the day after surgery, you can rinse your mouth with warm salt water. Pain or swelling for the next few days is common and can be controlled with over-the-counter pain medications, ice packs, and eating soft foods.
Have Wisdom Teeth Removed in Oxford, MI
If you or your child need to have wisdom teeth extracted, please contact our office in Oxford, Michigan, and one of our staff members will be happy to help you schedule an appointment.
Types of Anesthesia
We offer a variety of anesthetic options to make your experience as pleasant and comfortable as possible. The method of sedation used depends on your preference, the nature of the procedure, and your medical history.
Hear From Wisdom Tooth Patients
These patients can tell you about the firsthand experience undergoing wisdom tooth at our office.
Reviews From Our Wisdom Tooth Patients
Frequently Asked Questions
How do you know if you have enough room for wisdom teeth?
Every patient is unique, but most people simply do not have enough room for all four wisdom teeth. It's important to visit your dentist for regular checkups so they can monitor your oral health and monitor the growth and development of your wisdom teeth. When necessary they will refer you to an oral surgeon to have your wisdom teeth extracted.
What is the oldest age you can get wisdom teeth?
Age is not the most important factor when determining if wisdom teeth should be extracted. It is more important to consider the development of the teeth than the age of the patient. Wisdom teeth removal during adolescence is recommended because the teeth are smaller and therefore easier to remove. However, wisdom teeth can be removed at almost any age.
How should I prepare for my wisdom teeth removal procedure?
If you have been scheduled to have general anesthesia or IV sedation, it is essential that you do NOT eat or drink anything for 8 hours prior to your procedure. We will provide you with detailed pre- and post-operative instructions to ensure you are prepared before, during, and after your surgery.
Is the third day the worst after wisdom teeth removal?
Pain and swelling after wisdom tooth extraction will build over the first 48 to 72 hours as the local anesthetic wears off and blood flow increases to the surgical area. Discoloration around the eye may occur. Days 3–5 are typically when pain and swelling peak. If you have any questions about your recovery, please contact our office for prompt assistance.
Learn more about our practice or contact us to schedule an appointment.